Image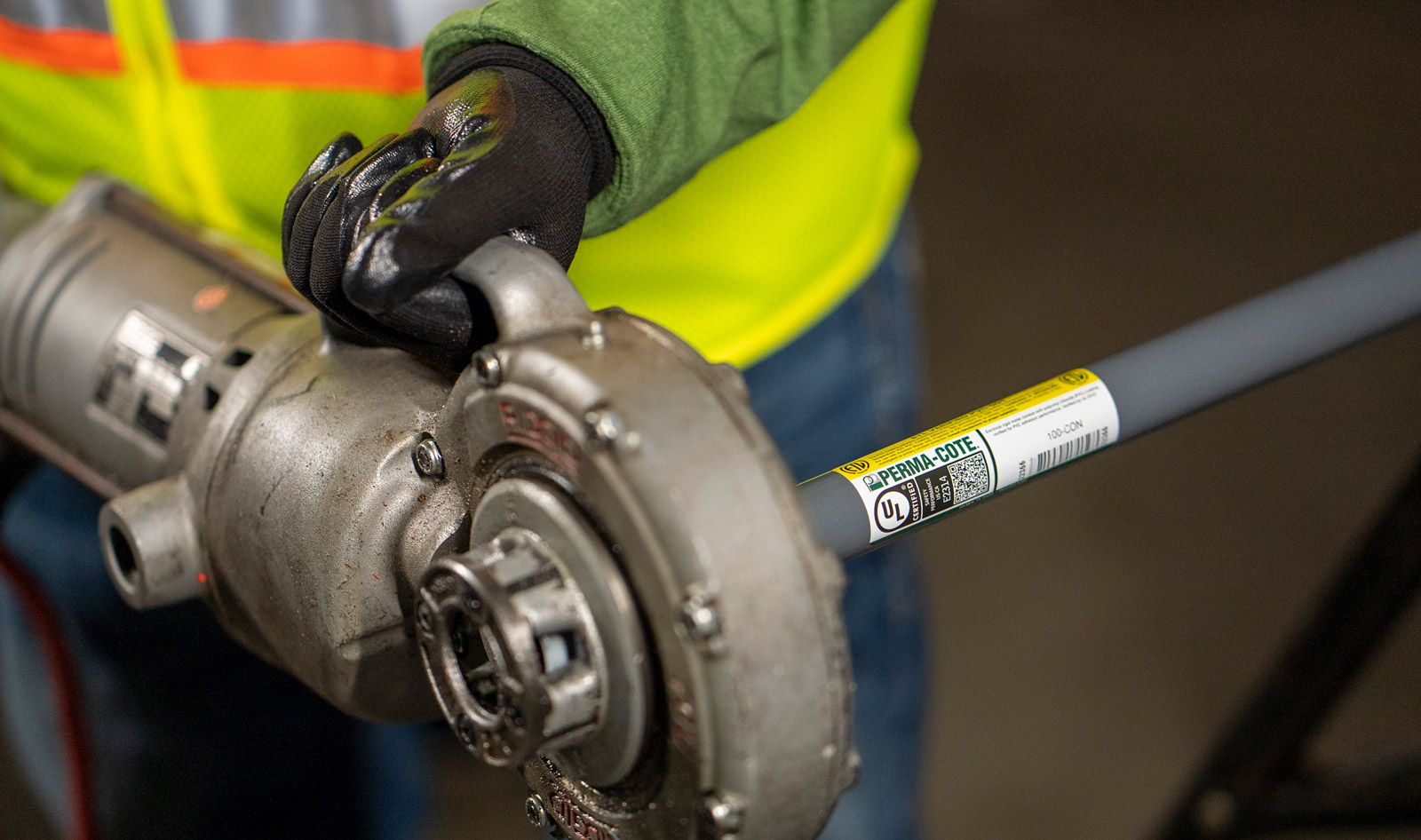 Perma-Cote Saves Time and Money
Perma-Cote is always pursuing ways to make your job easier, safer, and more efficient. Take a look at just a few of the features that show the Perma-Cote difference:
Ready-to-Install
Perma-Cote's unique Adhesion Enhancement Process (AEP) allows conduit to achieve a level of coating adhesion unmatched by other manufacturers by preparing the outer surface without degrading it. Additionally, after the PVC coating is applied, the pipe threads are hot-galvanized—not hot-dipped galvanized. This applies a consistent zinc protection and maintains the integrity of the threads, ensuring ease of installation.
What does this mean for installation? Other brands' conduit may come from the factory needing to be rethreaded. This is not the case for Perma-Cote Conduit. Thanks to our manufacturing process, Perma-Cote Conduit is ready to use right when it's delivered - saving you time and money.
Long-Lasting Service Life
If your raceway conduit doesn't carry an ETL PVC-001 verified label, those systems may be at risk for untimely, dangerous, and costly product failure. That's why Perma-Cote has been proven to last up to 10x longer than other brands that don't carry the ETL PVC-001 verified listing. That kind of reliable longevity gives end users confidence and peace of mind that Perma-Cote won't fail when they need it most.
Designed with Contractors in Mind
Product design that focuses on easier, straight-forward installation saves you time and money. Here are a few product features that make this possible:
PVC Coated Conduit Clamps - Coated pipe straps, clamps, and clamp-back spacers offer valuable labor savings, and make it easier to assemble a complete coated system.
Form 8 Condulet Cover Screws - No more losing cover screws—Perma-Cote's encapsulated stainless steel cover screws for Form 8 condulet bodies are corrosion resistant and completely seal openings for maximum protection.
V-SEAL® Form 8 Fittings - The patented, unique interlocking V-groove along the cover edge of Form 8 fittings effectively seals out corrosive elements and creates a UL Type 4X/IP69 seal.
Molded Ribbed Couplings - Perma-Cote's couplings have an enhanced grip for faster and easier installation.
Factory Nipples & Elbows - A variety of sizes and configurations, including standard and special radius elbows, are ready for quick shipment, offering lower labor costs and faster installation.
Game Changing Safety and Performance
PVC coatings are permeable, and without a strong adhesive bond to a conduit's steel substrate, it's only a matter of time before the product will fail. Perma-Cote's PVC coating, prepared with our unique Adhesion Enhancement Process, is proven to adhere to and protect the substrate from corrosive damage and harsh environmental elements… and we have the proof: 
To obtain the ETL PVC-001 Verification, Perma-Cote participated in a nationally recognized ASTM accelerated life-cycle test, in which samples of each conduit were placed in boiling water for 200 hours, and subjected to 150°F and 95% humidity. Afterwards, cuts were made in the PVC coating and a tab was pulled away with pliers to determine how strong the adhesion was. Perma-Cote's coating held strong and did not expose the metal substrate to corrosion.