Being able to easily identify and understand a product's listings by its labels is a time-saving feature - one that is worth the initial investment of learning about. No one can be an expert on all products, so having the knowledge of relevant listings ultimately means you can look for and read a label and quickly know if that product meets your safety requirements without having to do a lot of research before looking at it. 
For PVC-coated products, in particular, it is imperative that these products perform as they are intended since many will be installed in areas where traditional products might quickly corrode or where there are risks that may impair safety or operations if the product fails. 
Based in the U.S.A., ISO 9001-certified Perma-Cote complies with standards mandated by UL 6, NEMA RN-1, ANSI C80.1, ETL PVC-001, IEC IP69/UL Type 4X and UL 1203. Perma-Cote is ETL Verified for product performance and reliable longevity — ETL Verified PVC coated conduit provides product service life lasting 10 times longer than conduit that does not carry the ETL PVC-001 label.
You can always reference the product label to validate if it carries a specific listing.
For safety regarding PVC-coated conduit, be sure to verify that it carries the UL listing, where both PVC and Zinc are listed as primary protection. The ETL Verified Mark also ensures that the products were independently tested and meet strict safety requirements.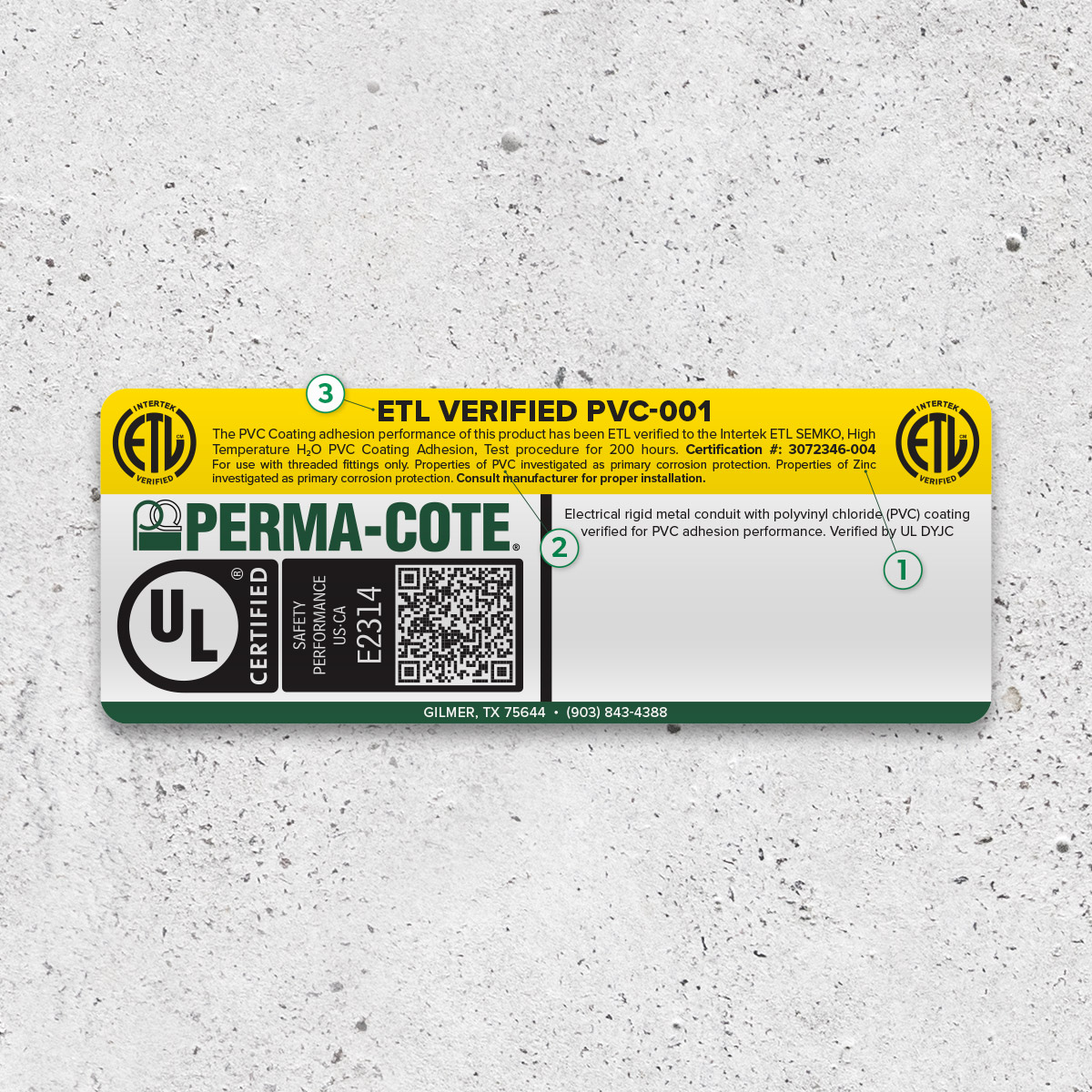 Identifying the Protection
ETL PVC-001 Label and Levels of Protection
The chart shows listings you should look for as it correlates with the level of coating performance and protection. Testing and conformance for Level 1 and Level 2 are covered under the UL 6 listing that also covers DYJC Complimentary listing. If a PVC coated conduit is listed under UL 6, the DYJC Listing requires only a clerical function for the additional listing and no further testing. Testing and conformance for Level 3 performance is regulated by ETL for compliance.
UL 6 - Zinc investigated as Primary Protection
UL 6 - PVC investigated as Primary Protection
ETL PVC-001 PVC Coating verified for Adhesion Performance
Product Compliance Documents
These documents are provided as additional assurance of our products' ETL compliance.